Award-winning koto artist Bernice Kisako Hirai, Ph.D. began playing the koto, a Japanese stringed instrument, at the age of 11 in Hakalau, Hawaii with her first teacher, Ayako Yokoyama.
In Honolulu, she studied under Kazue Mikami from 1955 into the 1970s. She resumed her studies in 1985 with Makiko Goto and Shoko Hikage, the first two instructors to come to Hawaii from the prestigious Sawai Sokyoku in Tokyo.
Dr. Hirai has served as president of Sawai Koto Kai Hawaii since 1986 and is currently the group's instructor.
She has taught the koto course offered by the University of Hawaii at Manoa since 1990.
Dr. Hirai was awarded the prestigious "Shihan" rank in July 1995 – the first foreigner to be so recognized by Sawai Sokyoku.
In 1998, she was awarded Japan's imperial award, The Order of the Sacred Treasure, Gold and Silver Rays.
She performs a wide variety of musical pieces ranging from classical to modern works.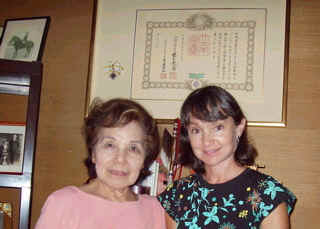 Bernice K. Hirai and Jody Okun Huybrechts in front of Dr. Hirai's Imperial Award from Japan